Featured Article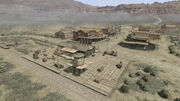 Armadillo is a settlement that features prominently in the opening act of Red Dead Redemption. The player first takes control of John Marston when he arrives in Armadillo after the opening cinematic. The town has a full set of amenities including a train station, general store, saloon, and safehouse. Games of poker and five finger fillet are available for wagering. In multiplayer, a variety of game modes are available in Armadillo, including Shootouts, Bag Games, Land Grab, and Stronghold.
Interviews
Wiki member Spawny0908 conducted interviews with three of the principal voice actors for Red Dead Redemption - check them out in the slider below. Unfortunately, Spawny passed away in 2012. Tributes to her can be found in this blog post.
Featured Media
Affiliated Wikis

Third Person
Open World Games

Rockstar Games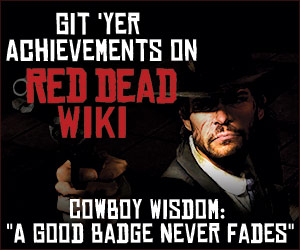 Red Dead Wiki Poll
Discuss the poll • See past poll results
This month's poll is about locations in the Red Dead series. If you could live within the game worlds of Redemption or Revolver, what would be your choice of location?
Where would you live in Red Dead?
Create blog post
News
Rockstar Games has revealed the effect that the upcoming closure of GameSpy servers will have on its library of Xbox 360 and PS3 games.

"We want to give everyone a quick update on the actions we're taking in light of GameSpy and GLU Mobile's decision to shut down their backend servers this coming Ma…

Read more >
See more >