Blackwater Ledger
Talk

2
1,840pages on
this wiki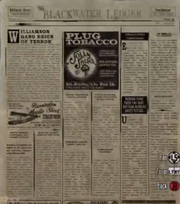 The
Blackwater Ledger
is the name of the
newspaper
available in
Red Dead Redemption
. It reports of the various events taking place in the world, and you may find the adventures of
John Marston
inside. The
Blackwater Ledger
can be bought for $1 per edition in various towns, from the papermen and advertisers marked on the map.
You can buy numbers 53 to 61 in the game as John Marston. Storyline missions unlock new editions. You can buy both the new edition and the former one. Like many newspapers of the later Western period, the Blackwater Ledger is distinctly developed from the more basic frontier newspapers of the earlier times, containing a range of articles from various journalists, advertisements, and smaller notices from businesses.
The printing press of the Blackwater Ledger can be seen in Blackwater, but this cannot be entered.
At the right-bottom corner, you can read a variety of strange sentences, such as "I Wish I worked for Uncle Sam" and "You Got yourself a fine pair of eyes." These are actually cheat codes that can be entered via the main menu.
Information
Edit
The Ledger contains various happenings about the game world. It is the only available newspaper to buy. Many of these events are player created As the player progresses through the storyline they can pick up different copies of this newspaper and read it. The newspaper updates with key storyline plots. After the story ends, they all can be obtained and flipped through. They are not always available once they have been bought once already so they may not appear on the map until another major event in the storyline happens.(If the player has finished the storyline, then it will appear in a few in-game days.) It can be found in all major towns and settlements marked by a newspaper icon.
Oddly enough, the Blackwater Ledger is also sold in Mexico.