| | |
| --- | --- |
| | It has been suggested that this article or section be merged with Deed. (Discuss) |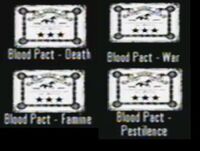 Blood Pacts are items featured in the Undead Nightmare expansion pack for Red Dead Redemption. They are used to summon the Four Horses of the Apocalypse.
Obtaining
The player must complete the Four Horses of the Apocalypse challenges. After taming all four Horses of the Apocalypse and killing one of every type of undead with Death's ability, the player will unlock the Blood Pacts. Also, the player will receive a Blood Pact for Death once they complete the game, even if they already had one. (This means the player can have two Blood Pacts for Death).
Using
These pacts work much like Horse Deeds. The player simply selects one of the pacts from the inventory to activate the associated horse. After doing so, whistling will call the selected horse to the player.
Gallery
Ad blocker interference detected!
Wikia is a free-to-use site that makes money from advertising. We have a modified experience for viewers using ad blockers

Wikia is not accessible if you've made further modifications. Remove the custom ad blocker rule(s) and the page will load as expected.