Blunderbuss
Talk

5
1,840pages on
this wiki
Hold it right there, outlaw!
This article is littered with

spoilers

, so I reckon
you might ought'a mosey on down the road
if you don't want to read any plot details.
Blunderbuss


Statistics
Power
Very High (Causes zombies to explode)
Range
Moderate
Rate of Fire
Low
Reload Speed
Low
Ammo Capacity
1
Ammo Type

The Blunderbuss is a weapon found exclusively in the Red Dead Redemption Undead Nightmare DLC pack.
The Blunderbuss can be seen in this video.
The Blunderbuss and its ammo creation kit are given to the player by Nigel West Dickens after doing the second mission for him. Marston is given the Blunderbuss in exchange for scrap parts. Blunderbuss Ammo is made from undead body parts looted from corpses.
Although this is one of the weapons Marston can possess, players cannot "cheat" for it because it is from DLC.
Description
Edit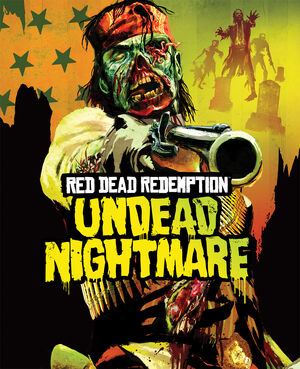 The Blunderbuss was typically viewed as a small, muzzle-loading shotgun. Its defining feature is the flared barrel, which can come out anywhere from three centimeters to three inches in diameter. The flare was not used to spread shot (a common misconception), but instead to make funneling of gunpowder easier whilst riding on horseback or stagecoach, where it was intended to be used.
In game, the gun uses pieces of zombies (ribs, eyes, ears, and tongues) collected from slain undead, in place of traditional ammunition. When fired, the blunderbuss explodes zombies into pieces. It mutilates the corpses so horribly, Marston is unable to loot anything from them.
The Blunderbuss can have a maximum of 19 spare rounds and one loaded and it takes 10 of any undead body part to create one round. After the player completes the Undead Treasure Hunter Challenges, they will receive extra room for much more ammo for all weapon types, including the Blunderbuss.
Undead Overrun
Edit
In the Undead Overrun multiplayer game mode, the Blunderbuss periodically becomes available to players via a limited-time weapons chest. In this mode, the weapon's stats are lower than in single player and the weapon does not vaporize the undead.
Tips and Tricks
Edit
Related Content
Edit
Related Content for Blunderbuss

Wiki Content
External Content
The links above will perform a search for the content that matches this page's name.