Bob Larson is a character in Red Dead Revolver.
Background
Edit
Not much is known about Bad Bob Larson. Sheriff Bartlett simply notes that he is wanted for grand larceny and murder, with a reward of $300.
Interactions
Edit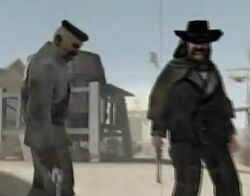 Bad Bob in the game is treated as a random enemy in Tarnation, his model - according to what is shown in the photo diary of Bartlett - is the model of one of the enemies that appear here and there in the ghost town within the ninth chapter of the game.
In this chapter, "Ghost Town", first appears hidden and appears building (its model because it appears several times in the episode), especially in the terraces of buildings. It is possible he appears in the opening section of "Ugly Streetfight".
Mission Appearances
Edit
Showdown Mode
Edit
This character is not available in Showdown Mode.
Sheriff Bartlett's Journal
Edit
Bad Bob Larson is listed in Sheriff Bartlett's Journal on pages 108 - 109 under the Outlaws in Twelve States section. The pages are unlocked by purchasing the Sun Umbrella.
Related Content
Edit
Related Content for Bob Larson

Wiki Content
External Content
The links above will perform a search for the content that matches this page's name.