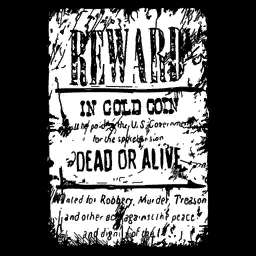 Bounty Hunting is an activity in Red Dead Revolver, Red Dead Redemption, and Red Dead Redemption II; in the former, it is the profession of choice of protagonist Red Harlow, while in the latter it is a series of side-missions protagonists John and Jack Marston can take part in, which is unlocked after completing the Leigh Johnson mission "Political Realities in Armadillo".
Description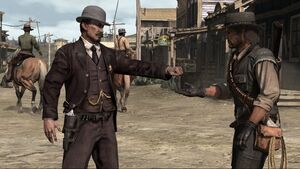 Outlaws with bounties on their head can be found throughout the land in various locations. These bounty hunting opportunities can be accepted from posters that are usually found in towns near a local Telegraph Office or train station. Available wanted posters will appear as a white skull on the player's map. If the player accepts the bounty from the poster, the location of the target will appear as a red skull on the map.
An active bounty does not have to be completed within any sort of time period; players can continue free roaming until they decide to go after the criminal. However, if another mission is started while an accepted bounty is outstanding, the bounty will no longer be available when completing the mission. Additionally, if Marston assaults or kills a lawman, the bounty will no longer be available. If a crime is committed while returning the bounty, the player will be unable to obtain the reward until the wanted level disappears.
Players may find taking up bounty hunting a highly profitable activity. The bounty reward varies, depending on whether the player has chosen to capture or kill the outlaw. Capturing the bounty alive awards the player twice the amount of money compared to killing the bounty.
Marston can also have a bounty placed on him if he is observed committing crimes. The bounty for Marston depends on his actions. If he has a bounty himself when turning in a bounty target, his own bounty will be deducted from the reward. Along with the law, bounty hunter posses will also go after Marston to collect on his bounty.
If Marston is arrested, he can do bounty hunting to reduce his own bounty. If he does not have enough money to pay off his own bounty, then he is required to do a bounty hunting mission.
List of Bounty Targets in Redemption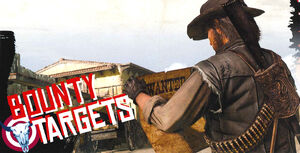 This is a list of all Bounty Targets and Wanted Poster locations in the game. Wanted Posters with a question mark are of targets already completed. However, the Bounty location may be different (which is what the game counts for completion). There are 8 Nuevo Paraiso locations, 8 New Austin locations and 4 West Elizabeth locations. Game completion progress is determined by the location of the Bounty, not the bounties themselves, hence you do not need to kill all of the bounties in the game to achieve 100% Completion.
New Austin - MacFarlane's Ranch
| Name | Gang | Dead Reward | Alive Reward |
| --- | --- | --- | --- |
| | Bollard Twins | 20 | 40 |
| | Bollard Twins | 120 | 240 |
| | Bollard Twins | 120 | 240 |
| | Bollard Twins | 80 | 160 |
| | Bollard Twins | 80 | 160 |
| | Bollard Twins | 20 | 40 |
| | Criminals | 200 | 400 |
New Austin - Armadillo
| Name | Gang | Dead Reward | Alive Reward |
| --- | --- | --- | --- |
| Mo van Barr | Waltons | 80 | 160 |
| | Waltons | 80 | 160 |
| | Waltons | 80 | 160 |
| | Waltons | 120 | 240 |
| | Waltons | 20 | 40 |
| | Waltons | 20 | 40 |
| | Waltons | 120 | 240 |
| | Criminals | 40 | 80 |
New Austin - Rathskeller Fork
Nuevo Paraiso - Escalera, Chuparosa, El Presidio
West Elizabeth - Blackwater, Manzanita Post
List of Bounty Locations in Redemption
This is a list of all locations in which the player must kill or capture a bounty in order to achieve 100% game completion.
Pick up bounty at Armadillo, Rathskeller Fork, or MacFarlane's Ranch. Deliver the bounty at Armadillo Jail or MacFarlane's Ranch Foreman's Office.
Pick up the bounty at El Presidio, Escalera, or Chuparosa, and deliver it to Chuparosa.
Pick up bounty at Blackwater or Manzanita Post. Deliver the bounty to the Blackwater Jail.
Red Dead Redemption Multiplayer
In Red Dead Redemption multiplayer, bounty hunting is a challenge system that earns players experience. A player who decides to fight the NPC lawmen in Free Roam mode, or break the laws, will have a bounty posted on their head, similar to single player mode. Any player who amasses a bounty of $1000 will be shown on the minimap as a public enemy and an experience bonus will be awarded to any player who kills him. Players who gain bounties and survive bounty hunter attacks will complete Outlaw Challenges. A player that reaches Public Enemy status in a multiplayer won't be able to use Transport spots for fast travel, so bounty hunters have some advantage in order to track and take him down.
Members of another posse can locate these players and kill them to collect on the bounty, as well as earn themselves experience.
Tips
Trivia
Gallery
Achievements
Two trophy/achievement are associated with completing bounty hunting missions:
| | |
| --- | --- |
| | Capture a bounty alive. |
---
| | |
| --- | --- |
| | Attain 100% List in the singleplayer game completion list. |
---
This can also help to obtain:
| | |
| --- | --- |
| | Earn $10,000 in singleplayer. |
Bugs
Related Content
Related Content for Bounty Hunting

Wiki Content
External Content
The links above will perform a search for the content that matches this page's name.