A Doctor's Office is a type of store found in Red Dead Redemption where medical supplies can be purchased.
Description
In the beginning of the twentieth century, doctors were not as advanced and skilled as they are today. And due to the peoples' distrust of medicine at the time, being a doctor was far less profitable.
The Doctor's Office sells consumables such as Medicine, Chewing Tobacco and Moonshine for John Marston, and Horse Pills or Apples for the player's horse. The Doctor will also, just like any other shopkeeper, purchase the sellable items collected by Marston such as plants, feathers, animal hides, etc.
The map icon of the Doctor's offices is a briefcase with a heart in the center.
Locations
Trivia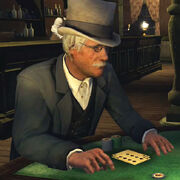 Note
Related Content
Related Content for Doctor's Office

Wiki Content
External Content
The links above will perform a search for the content that matches this page's name.
Ad blocker interference detected!
Wikia is a free-to-use site that makes money from advertising. We have a modified experience for viewers using ad blockers

Wikia is not accessible if you've made further modifications. Remove the custom ad blocker rule(s) and the page will load as expected.