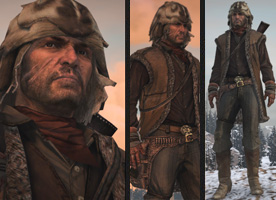 The Expert Hunter Outfit is an optional appearance for John Marston or Jack Marston in Red Dead Redemption available via the free Hunting and Trading Outfits Pack DLC.
In-game Description
Edit
"Backwoods trappers taught you well. Gather twice as many provisions from hunting and skinning animals."
Characteristics
Edit
While using this outfit, players will generally receive double the amount of item drops from animals, excluding hearts.
How to Obtain
Edit
Five scraps must be obtained by completing challenges before the outfit is unlocked. The scraps can be obtained in any order.
Scrap 1: Harvest 5000 lbs of meat
Scrap 3: Kill and skin 8 snakes
Tips & Tricks
Edit
This outfit was a candidate in the vote for pre-order bonuses, however the Deadly Assassin Outfit won.
Rockstar released an unfinished version of the DLC for PS3 on the 1st of September in Europe and on the 2nd of September in other countries except for the United States. This version was reported to be untested and full of bugs. R* recommends to anyone who downloaded this version to delete it from your console and wait for the tested and finished version, which is out now.
Combining this outfit with the bandana creates an interesting new look for Marston. Due to the unique badger hat of the outfit in conjunction with the bandana, only his eyes will be exposed.
The headpiece of this outfit appears to be of a badger, though there are no badgers in the game world.
In Undead Nightmare DLC, the Sasquatch Hunter is seen wearing an outfit incredibly similar to this outfit, the most notable part being the hat.
When the player is wearing this outfit, any cutscene will be automatically skipped.
The hat from the Expert Hunter outfit looks similar to the hat worn by Robert Redford in the 1972 film "Jeremiah Johnson". The coat is also similar to the one worn by Will Geer ("Bear Claw" Chris Lapp) in the same film.
John's bandana momento is rolled down while wearing this outfit. The only other outfit with this feature is the Bollard Twins Outfit.
Wearing this outfit when skinning the Legendary animals will grant double the provisions, excluding the heart.
Video Guide
Edit
thumb|left|300px|A full guide on how to acquire the Expert Hunter Outfit.