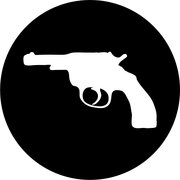 The Gunsmith was a common amenity in the times of the Old West. Their purpose was to fabricate, trade, and repair weapons.
In Red Dead Redemption the Gunsmith will sell John Marston weapons and ammunition, ranging from the most common to the five rare weapons such as the Mauser Pistol.
Transactions
Edit
Stock varies from one Gunsmith to another, with Gunsmiths in the later areas of the game having rarer, more powerful weapons such as (once the player reaches Master Hunter Rank 5) the Buffalo Rifle.
Buying ammunition from a Gunsmith will result in full ammo for that type of weapon. It won't have to be purchased more than once.
Of the two weapons added by DLCs, the Explosive Rifle is purchased at a Gunsmith (in Blackwater), but the Tomahawk is not, being obtained at the General Store in Manzanita Post instead.
The player can sell non-weapon provisions to any Gunsmith found in game.
The Gunsmith opens at 7am. 
Locations
Edit
Achievements/Trophies
Edit
| | |
| --- | --- |
| | Purchase a rare weapon from a gunsmith. |