"
Woo! We gonna make this town real smoky!
"
–Gus Ballard
Gus Ballard is a minor character featured in Red Dead Redemption.
Background
Gus Ballard is an outlaw and member of the Bollard Twins Gang.
Interactions
Gus can most often be found around Thieves' Landing, frequently loitering inside the saloon and around the brothel. He can also be encountered at the Fort Mercer hideout in Free Roam but he will be hostile. He may also be among the gang that has taken over Warthington Ranch in free roam.
Quotes
"You're done for!"
— Gus Ballard during a fight
"Partner, I'm gonna bag you like a wild dog!"
— Gus Ballard during a fight
"It'll be my pleasure to scoop up your damn brains, amigo."
— Gus Ballard, when threatened
"Watch it, Marston."
— Gus Ballard when bumped into with high Fame
Gallery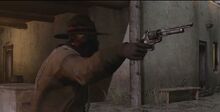 Trivia
Hey there, cowboy. It looks like this little ol' article is a bit puny.
I reckon you could impress me by adding to it. Don't be shy now.
If you're logged in, it'll help you earn them fancy achievements, too.
Ad blocker interference detected!
Wikia is a free-to-use site that makes money from advertising. We have a modified experience for viewers using ad blockers

Wikia is not accessible if you've made further modifications. Remove the custom ad blocker rule(s) and the page will load as expected.