High Stakes Poker
Talk

8
1,883pages on
this wiki
| | |
| --- | --- |
| | It has been suggested that this article or section be merged with Poker. (Discuss) |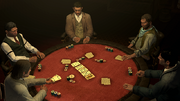 High Stakes Poker is an activity the player can participate in in Single Player. The Gentleman's Attire outfit must be worn in order to participate. This outfit can be obtained via the Rockstar Social Club.
The player must first unlock West Elizabeth before being able to reach the location of the game. Once unlocked, go to Blackwater and head to the Blackwater Hotel. On the second floor (up one flight of stairs) the game takes place in one of the rooms. If the player is not wearing the Gentleman's Attire, the game will not show up on the map and the door to the room will not open.
High Stakes
Edit
This Poker game is the most expensive gambling activity in Red Dead Redemption, requiring $250 to sit in. This is more than double Blackwater's normal Poker Table below the Safe House. Since the player can not wear the Elegant Suit to the game, cheating is not possible. Starting with a full table, it is possible to make $1250 dollars in one sitting.
Social Club Challenge
Edit
Unlocked on December 17, 2010, the Blackwater challenge requires the player to wear the Gentlemans Attire outfit and plunk down $250 to get into a game of high stakes poker at the Blackwater Hotel.
Objectives
Win 2 pots on a bluff
Knock 1 person out of the game
You always bet less than the pot
Reward

"Punchout" Cheat
This cheat allows you to take out enemies with a single punch.
In Undead Nightmare, one can access the room without the Gentleman's Attire. However there is nothing to do here since there is no poker.
Like Marston, the other characters appear to dress much nicer for this game, excluding Carnelious Wolfe, who dresses in his usual outlaw outfit.
Inside the poker room, there are also two police officers and two prostitutes. This mostly to provide extra protection with the large amount of money, as well as to provide extra "comfort" for the players.
The Social Club Challenge has a 59 minute limit, and if you go over it you automatically fail the challenge.
The two doors that lead to the room are the only known doors with this design on them.
Trophies/Achievements
Edit
---
10

Bronze

Earn $10,000 in Single Player.
---
100

Gold

Attain 100% List in the singleplayer game completion list.