Hopi is a character in Red Dead Redemption.
Background
Nothing is know on his background other than he is afflicted with Dutch's Gang and is an outlaw.
Interactions
He can be seen in random encounters alongside Enepay, Dakota & Nashoba his face paint is also similar to theirs meaning he may come from the same tribe as them.
Trivia
He is similar to Helaku they may be realted as they are both Hopi based on DfaQce paint.
Gallery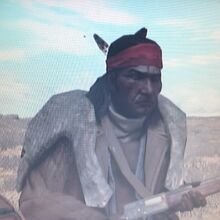 Hey there, cowboy. It looks like this little ol' article is a bit puny.
I reckon you could impress me by adding to it. Don't be shy now.
If you're logged in, it'll help you earn them fancy achievements, too.