| | |
| --- | --- |
| | It has been suggested that this article or section be merged with Sale Rates. (Discuss) |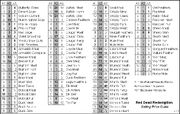 Pricing Discrepancies
All prices are the same within each area, except:
Tailor shops will only purchase certain items, but they will all pay the same prices as every other shop in that area. One exception is that the Tailor in Blackwater will only pay $36 for Khan's Pelt which can be sold anywhere else in Blackwater (and also Manzanita Post) for $48.
The Tailor in Blackwater will not purchase the Bighorn Skin item but the other Tailor in Thieves' Landing will buy it.
The only other discrepancy in pricing is found at the Doctor's Office in Chuparosa where he buys Red Sage at one dollar less than anyone else in that area.
---
Besides the above, Tailors only purchase Fur, Skin, Hide, and Pelts. This is the list:
Pricing Table
All prices within this table are based upon the player having neutral honor.
If the player has high honor, the selling price will be increased by 50% everywhere except Thieves' Landing.
Low Honor decreases selling price by 50% everywhere except Thieves' Landing.
Ad blocker interference detected!
Wikia is a free-to-use site that makes money from advertising. We have a modified experience for viewers using ad blockers

Wikia is not accessible if you've made further modifications. Remove the custom ad blocker rule(s) and the page will load as expected.