Jobs are tasks that the player can perform to earn Money in Red Dead Redemption.
Description
Edit
There are two types of Jobs available: Nightwatch and Horse Breaking. Horse breaking is available at two locations, Nightwatch available at three. Completing a job at all five job locations contributes to 100% Completion . Jobs can be repeated at each location, within time restrictions, as often as the player wants.
Performing jobs is required for unlocking certain outfits.
Horse Breaking
Edit
Main article: Horse Taming
The job of Horse Breaking is the process of taming a horse to make it suitable for riding. Horse breaking can be performed at Ridgewood Farm and Chuparosa.
Nightwatch
Edit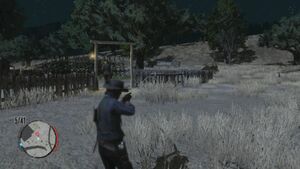 Main article: Nightwatch
Nightwatch involves patrolling a settlement and dealing with any threats that arise. Nightwatch can be performed at MacFarlane's Ranch, Chuparosa and Blackwater.
Tips and Tricks
Edit
After successfully completing Horsebreaking, the tamed horse can usually be saved by a hitching post nearby, making it the horse that comes when whistled for.
For Nightwatch jobs, it is recommended to equip a weaker gun, such as the Cattleman Revolver, to shoot offenders in the leg or arm to make it easier to hogtie them to receive the maximum amount of money for the job.
Achievements/Trophies
Edit
| | |
| --- | --- |
| | Attain 100% List in the singleplayer game completion list. |
Related Content
Edit
Related Content for Jobs

Wiki Content
External Content
The links above will perform a search for the content that matches this page's name.