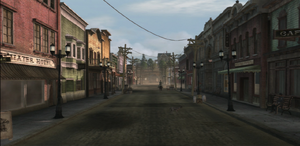 Main Street is a street in the city of Blackwater, featured in Red Dead Redemption in the Great Plains region of the West Elizabeth territory.
Description
Main Street consists of cobblestone pavements with lamps, along with telephone lines, and many businesses and storefronts. It is teeming with life, as people can be seen walking down the street night and day attending to their business; and serves as the focal point for shops and retailers in the town.
Events of Red Dead Redemption
The missions, At Home With Dutch, For Purely Scientific Purposes, The Prodigal Son Returns(To Yale), and the Stranger side-mission, The Prohibitionist, all start on this street.
Events of Undead Nightmare
Phase one of the mission, Curious Tales from Blackwater starts here.
Amenities
Businesses
Coal and Wood
Painter & Decorator
Blackwater Law Offices
Ship Chandler and Grocer
East Indian Tobacco Co.
Blackwater Restaurant
Elias K. Fitch and Sons Boots & Shoes
Blackwater Ledger Newspaper Offices
Blackwater Hotel
Silver Skillet Cafe
Reliable Jewelry
Candy Store & Bakery
Althewaye Inn
Wilton's Barber Shop
Photographer
Notable People
Activities
Trivia
It seems to be the most populated street in Blackwater as it has the most buildings (though most of which the player cannot enter) and Amenities.
It is also home to a building that is just being built, though oddly enough no one is seen working on it.
Gallery
Ad blocker interference detected!
Wikia is a free-to-use site that makes money from advertising. We have a modified experience for viewers using ad blockers

Wikia is not accessible if you've made further modifications. Remove the custom ad blocker rule(s) and the page will load as expected.