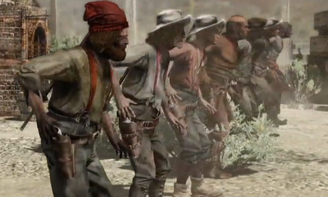 Miners is a set of playable multiplayer characters available in the Outfitter in Red Dead Redemption Multiplayer. The character skins/outfits are modeled after the Treasure Hunters Gang members from the single player game.
Playable Characters
Following is a table of Miners which can be chosen as Multiplayer avatars in the Outfitter, accompanied by the Online Rank required to unlock them.
Ad blocker interference detected!
Wikia is a free-to-use site that makes money from advertising. We have a modified experience for viewers using ad blockers

Wikia is not accessible if you've made further modifications. Remove the custom ad blocker rule(s) and the page will load as expected.