The Start menu in Red Dead Redemption allows access to the options menu. In the options menu you can change your control layout for the game, the display, audio and configuration.
It will also show the
Cheats
page. Here you can activate cheats you have entered in the game or obtained from the Rockstar Games
Social Club
.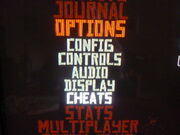 Hey there, cowboy. It looks like this little ol' article is a bit puny.
I reckon you could impress me by adding to it. Don't be shy now.
If you're logged in, it'll help you earn them fancy achievements, too.