"
You wanna dance with the Devil? Well here I am!
"
–Peter Turner in Undead Nightmare
Peter Turner is a minor, deceased character featured in Red Dead Redemption. He is the subject of the Stranger side-mission "Let No Man Put Asunder".
Background
Being betrothed to Alma Horlick, Peter died on January 15th, 1894, 17 years before the events of Red Dead Redemption (17 when playing as John Marston and 20 years ago when playing as Jack Marston), close to his wedding day from "a blow to the head" and was buried at Odd Fellow's Rest.
Interactions
Red Dead Redemption
If the player travels to Coot's Chapel, he will find a Stranger named Alma Horlick who asks if Marston will go and find her soon-to-be husband in Armadillo's Saloon, supposedly hanging out with the musicians there, according to her. At the end of the mission, it is revealed to the player that Peter Turner has in fact, been dead for over 17 years.
Undead Nightmare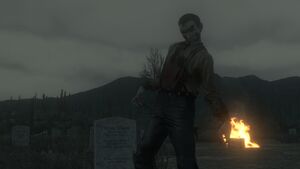 During the Undead Nightmare, Peter returns at Odd Fellow's Rest in the mission "Get Back in That Hole, Partner". As Peter rises from his grave, he shouts: "You wanna dance with the Devil? Well here I am!" referring to his gravestone, where it says, "He will never dance with another."
Trivia
His gravestone says "He will never dance with another." This may be a reference to the song "I Saw Her Standing There" by the English rock band The Beatles, which contains the lyrics "I'll never dance with another, since I saw her standing there."
The musician referred to him as a "queer fellow". Circa 1911-1914, "queer" was still a common term to describe something or someone that is odd or bizarre, thus further explaining why he was buried in Odd Fellow's Rest.
In Undead Nightmare, his grave seems to be in a different spot than in the regular storyline.
In Undead Nightmare, while cleansing Odd Fellow's Rest, he cannot be hogtied.
In Undead Nightmare, he is referred to as Pete Turner.
Ad blocker interference detected!
Wikia is a free-to-use site that makes money from advertising. We have a modified experience for viewers using ad blockers

Wikia is not accessible if you've made further modifications. Remove the custom ad blocker rule(s) and the page will load as expected.