Red Dead Revolver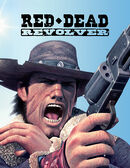 Red Dead Revolver is an arcade-style western third-person shooter video game published by Rockstar Games and developed by Rockstar San Diego. It was released in North America on May 4, 2004 for the PlayStation 2 and Xbox, In PAL region on June 11, 2004, and on May 26, 2005 in Japan. On December 19, 2012, a "PS2 Classics" version was added to the PlayStation Store as a downloadable title for PS3.

Create blog post
News

In light of recent events, the new Red Dead game (Red Dead Redemption II) has formally announced and we are excited as much as you are. However, keep the leaks and speculation to yourselves. Also, in regards to the articles, stick to the official …


Read more >

Rockstar Games has revealed the effect that the upcoming closure of GameSpy servers will have on its library of Xbox 360 and PS3 games.

"We want to give everyone a quick update on the actions we're taking in light of GameSpy and GLU Mobile's decision…

Read more >

Rockstar is hosting another six-hour Social Club event covering all of their current games on Saturday May 25 from 12:00 - 18:00 EDT (17:00 - 23:00 BST). Unlike the previous such event where each game was played for about two hours, this time all fi…

Read more >
See more >
Ad blocker interference detected!
Wikia is a free-to-use site that makes money from advertising. We have a modified experience for viewers using ad blockers

Wikia is not accessible if you've made further modifications. Remove the custom ad blocker rule(s) and the page will load as expected.