Red Dead Revolver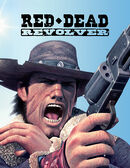 Red Dead Revolver is an arcade-style western third-person shooter video game published by Rockstar Games and developed by Rockstar San Diego. It was released in North America on May 4, 2004 for the PlayStation 2 and Xbox, In PAL region on June 11, 2004, and on May 26, 2005 in Japan. On December 19, 2012, a "PS2 Classics" version was added to the PlayStation Store as a downloadable title for PS3.

Create blog post
News
Wikis all across Wikia have some sort of award or honor bestowed upon the best users of their wikis. With my recent undertaking of getting The Red Dead Wiki ready for the surge of activity upon the release of Red Dead Redemption II, I've prepared ne…

Read more >

Administrators are a group of people who possess power in some shape or size. They may rule over a chat, or perhaps they may rule over a wiki, but they have power in some kind of way. However, if one takes a look at any of the many wikis that have d…

Read more >

With the new Red Dead game set to be released anywhere from four to six months from now, Red Dead Wiki is preparing for the boost of activity by modernizing. The first step in this process is to open a Discord server for the channel. It will be a go…

Read more >
See more >
Ad blocker interference detected!
Wikia is a free-to-use site that makes money from advertising. We have a modified experience for viewers using ad blockers

Wikia is not accessible if you've made further modifications. Remove the custom ad blocker rule(s) and the page will load as expected.