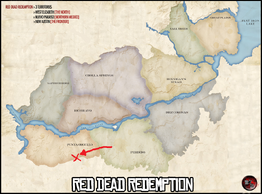 "Army of more than two" is a Xbox 360 Red Dead Redemption posse.
About the posse
NOTE: Due to the high volume of applicants lately (Over 10 with messages coming from email to forum mail to wiki mail to Xbox Mail...) I feel the need to state that this posse is fairly inactive, I don't play Red Dead Redemption nearly as much any more and etc. So please look for another posse.

Created by a small group of Friends,the Army of More than Two is all about having fun and enjoying- Oh what the hell, why am I explaining it to you? You'll find out if you join, that's all I'll say. We enjoy Posse wars and our "Official Gang Location" on the map is "Plata Grande", south of Tesoro Azul. When we get bigger we will incorporate more rules & ranks.
Joining the posse
It's not all about skill, we play the game for fun. Prove yourself and you can join.
Allies & Enemies
As previously stated, we enjoy posse wars and would be glad to call someone an ally or even an enemy. No one has challenged us yet or arranged any alliances, but we're always open.
Members
Warning: Not all members may be active.
Leader
Soldiers
CountingCoaks
curt52isawesome
Rockster82
grantace123
BlazinAmazin329
ZCituation15
Temporary Members
Applicants
Bronze_Nob
iambrettiam
EloquentDuke
External links
Ad blocker interference detected!
Wikia is a free-to-use site that makes money from advertising. We have a modified experience for viewers using ad blockers

Wikia is not accessible if you've made further modifications. Remove the custom ad blocker rule(s) and the page will load as expected.