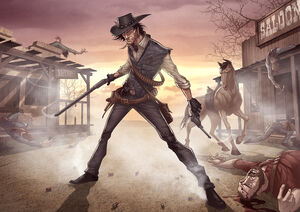 "Marston and Son" is a Red Dead Redemption posse.
About the posse
We are a posse of 2 on X-Box Live, but we are willing to accept any other members. If you have not heard of us or have seen us in any matches, we are Lt Kartsounes and Captain Davison. We hunt Bounties, unless you have a good reason to be one (achievements maybe), we hunt player killers, and if you mess with us, we will kill you until you leave the session as you do so much.
Joining the posse
If you would like to join, we are open to anyone. If you want to become a household name for us, then play more often, and be a reliable player when needed. I must admit, you may not be mentioned so much, since the posse name is Marston and Son, but if you are valuable, we will make sure other players fear and respect you. Contact either Captain Davison or Lt Kartsounes if you would like to join.
Ad blocker interference detected!
Wikia is a free-to-use site that makes money from advertising. We have a modified experience for viewers using ad blockers

Wikia is not accessible if you've made further modifications. Remove the custom ad blocker rule(s) and the page will load as expected.