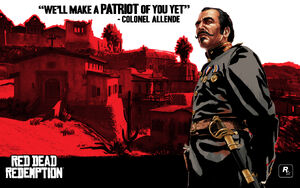 "Mexican Army" is a Red Dead Redemption posse.
About the posse
This posse has been disbanded and is no longer active.
Joining the posse
Currently N/A
Members
Generals
Heads
(Colonels, Lieutenant Colonels, and Majors)
alnimator
grice
RageKing918
Officials
(First Captain, Second Captain, Lieutenant, and Sub-Lieutenant)
eliseobadboy
Snicker_Doodle10
Tahaben101
ZOMBIEKILLER4347
Enlisted
(First Sergeant, Second Sergeant, Corporal, Private First Class, and Private)
blackWolfy92
layjor02
le_TARZAN27
XxTZANxX
Soldiers
ARMY_BADASS7
DR_KUSH_187
gangstaboss4
Gunstar31
guntherhunter101
Jimmy_B_182
loosecannon2601
NaaNzZii
nbghytrewsd34r
supabutterpeanut
teamjeter2
thrillbilly7
woleys1
zack1010781
Recruits
Alumni (Former Members)
angelsp99
B2K-CR33D-
BbobaFETT
coolfire1807
ericpl72
EXECUTIONETTE
GameManiac7997
Ghost Rip
kaitlyn1232002
KAriZMA_KiLLA
Mary5690
NFS-001
NINJASLOTH-199_
PunkBonesJr
shelito19
Skonig
XX_v_Diva_v_XX
yolo_swag44
Hall of Fame
BbobaFETT (Inducted Apr. 2014)
Mary5690 (Inducted Dec. 2013)
NINJASLOTH-199_ (Inducted Dec. 2013)

NOTE: You are AUTOMATICALLY RELEASED if you are inactive for 2 months (60+ days).
Bases
(Mexico)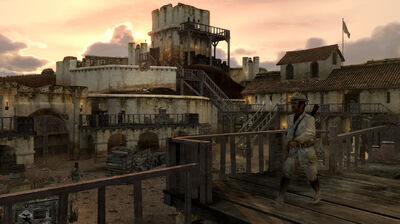 Chuparosa (Main Base)
El Matadero (Training Base)
El Presidio (Main Base)
Escalera (Main Base / Headquarters)
Torquemada (Training Base)  

Training Base: Base for training recruits
Main Base: Training and Camp Base for soldiers and recruits
(US)
Fort Mercer (Main Base)
Plainview (Training Base)

Training Base: Base for training recruits
Main Base: Training and Camp Base for soldiers and recruits