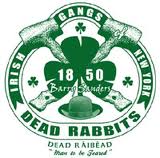 "The Dead Rabbits!" is a Red Dead Redemption posse.
About the posse
Hey There Laddy! We are "The Dead Rabbits!" we are a gang brawlers of from new york all the way down to the cold wild west, We own All of Hennigan's Stead and parts of cholls Springs and the main hideout is in Theive's Landing. We except characters from.. Cattle Rustlers: Waltons Gang: Misc Crimanals: We do Gang Hideouts, levelin up, Raids on big towns and a hole lot other other stuff like lanf grabs missions and knuckle fighting in MacFarlen's Ranch. We are a PS3 posse, if you want anymore info add.. TriiCkz_jeVon or JKL_Mullingan73. or send a message to Dead Rabbit on the wiki.
Joining the posse
Anybody can join, all you need to do id fist fight the Boss! We would prefer people with hedsets/mikes doesnt matter if you havent one, but would help a lot.
Members
asian_monkey97 &nbsp gods405 vin_cent5 TjF1314 letsdance95 &nbsp sova123 &nbsp THEBUZZARDMAN &nbsp nightowl97 &nbsp Nickbn15 &nbsp richydabomb123 ogel929 Plugmore: TriiCkz_jeVon &nbsp I_WAS_FLOF1234 egurel Official-Swagg
Leaders
JKL_Mullingan73
Other leaders
Zabrohlo12 &nbsp TriiCkz_jeVon &nbsp EGUREL
Ad blocker interference detected!
Wikia is a free-to-use site that makes money from advertising. We have a modified experience for viewers using ad blockers

Wikia is not accessible if you've made further modifications. Remove the custom ad blocker rule(s) and the page will load as expected.