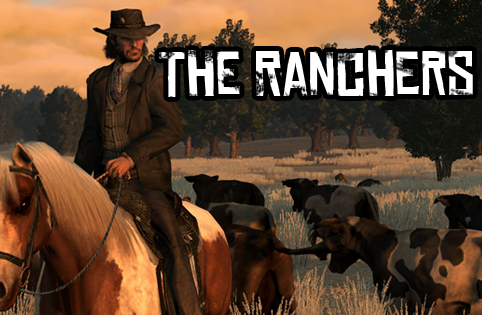 "The Ranchers" is a Red Dead Redemption posse.
What "The Ranchers" Do
"The Ranchers" are a friendly X-Box Live Posse, based in Beecher's Hope. We are here to enjoy our time in the US and go on trips to Mexico! We do not attack other people or Posses who are going around their business, but we are quick to collect the bounty of any Public Enemy. We are also very fast to dispatch with anyone who aggressively trespasses on our ranch and anyone who is aggressive towards ourselves or allies, both verbally and physically. We also help out by clearing out Gang Hideouts.
How To Become A Rancher
Make Sure You Meet These Requirements:
You Need A Headset For Your X-Box.
You Must Be Online And Playing Red Dead Redemption At Least Twice a Week. (Mostly)
You Must Be Able To Be Online Around 4:00-11:00 GMT/BST (Usually For A Few Hours)
Now That You Meet The Criteria, Follow These Steps To Become A Junior Rancher:
First, Get In Touch With NeF TeRRoRZz, Via X-Box Live Message.
Then, We Will Arrange A Time and Date For You To Ride With The Posse (Immeadiately If NeF TeRRoRZz is Online)
Ride With The Posse To See If Your Right For Us.
If You Like The Posse, and We Feel You're Right For Us, You'll Become A Junior Rancher!
Ranchers
Ranch Owners
NeF TeRRoRZz
Looking For a Second in Command
Senior Ranchers
Senior Ranchers Will Be Picked From Junior Ranchers That The "Ranch Owners" are confident with.
Junior Ranchers
Looking for Junior Ranchers To Be Fully Initiated Into Senior Ranchers
Ad blocker interference detected!
Wikia is a free-to-use site that makes money from advertising. We have a modified experience for viewers using ad blockers

Wikia is not accessible if you've made further modifications. Remove the custom ad blocker rule(s) and the page will load as expected.