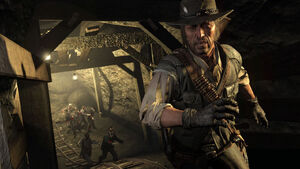 " Irish Drunks *PSN*" is a Red Dead Redemption posse, On playstation 3
They say God invented Whiskey to stop the Irish from ruling the world. -Irish
About the posse
We Play Red Dead often. We Have "Liars And Cheats" and we enjoy killing other posses. We operate on Playstation 3. We only operate in west elizabeth, but mainly Cochinay. We spread ourselves out in W.E.
RULES
YOU ARENT ALLOWED TO PLAY AS IRISH OR THE LAST REBELDE.
you can play as anyone else besides them.
Dont join if your a sheltered church kid. We enjoy swearing and having fun.
DONT JOIN IF YOUR UNDER 14.
I can't stand little kids, especially ones that sing.
Since we are such a large posse we do these:
NO clan meetings, thats dumb.
XP farming. We do alot of gang hideouts, hunting grounds and other things to get XP.
Killing other posses. Especially ones with little kids, because we love to gang up on them.
So If the leader, Nuns, invites you to play cause he needs help in the hideout, killing posse or other, JOIN. Its ok if you dont but if you never ever join when he asks, we'll remove you and there wont be anything else to it.
ALSO* If your in the posse, you dont have a right to edit the pages or make the rules.
your just a posse member. Deal with it. We would like if you have DLC. we dont like cheap deadbeats who dont even know what a tomahawk or poker game is. If you have Liars and Cheats thats Great.
KnockingOutNuns is the PSN clan leader. Message him to join, saying where your from and what level you are. We'd like to know who you are at least.
Joining the posse
Message KnockingOutNuns on ps3 stating:
Rank (Needed)
Age ( Not Needed)
Country (Needed)
Must Have Liars and Cheats (Not needed but still important.
You will receive an Add if you are accepted.
Since we are such a big posse, we dont have clan meetings. So its a slack, cool and laid back posse.
Leaders
leader: KnockingOutNuns Leader's Bitch: Deagan12
Members
- Ahenakew-8
-anne_6969
-maddi_mckeavs
-mariofreakman
-sgt-rock423
-Pytlaks
-TonySenkrad911
-macattack735
-xKiinK
-NuCkLeAr_WIN
-iKudiZz
-Cargo555
-Turtle_Blood
-BillyTheKid1255
-JrEgg
-Element626
-NonChrisCrocker
-Poppin_Cherries6
-swat1289432
-ichippaint22
External links
Ad blocker interference detected!
Wikia is a free-to-use site that makes money from advertising. We have a modified experience for viewers using ad blockers

Wikia is not accessible if you've made further modifications. Remove the custom ad blocker rule(s) and the page will load as expected.