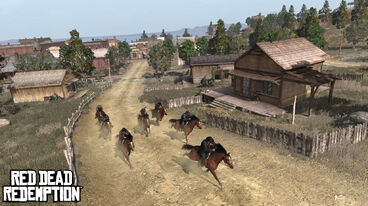 .Chasm Riders is a Red Dead Redemption posse.
About the posse
Chasm Riders was created originally for GTA(originally named Chasm)with many members ranging of different skill levels then was moved to Red Dead Redemption on the 17/5/10.It has 2 safe houses based in the Red Dead Redemption world and a HQ.(which locations are kept secret from outside members). The Chasm Riders consits of very powerful bounty hunters and WILL complete any contract they are givin they will kill NPC'S or Actual players with ease. NO ONE CAN OUT RUN OR OUT SURVIVE THE CHASM RIDERS. The posse was originally named Chasm Riders but the page was locked so is now named .Chasm Riders.
We use XBOX LIVE.
Joining the posse
The posse is not looking for more members at this current time because of high recruitment status but will update this page if this matter changes.
Members
Leaders
The main leader of the posse is the founder XxOblitArAterxX But the posse is ruled by two other members who manage the safe houses,A Manky Mango and Predator1196 which have the power over their territories but have to consult things with the posse leader first.
Other members
xiTz HowARth x Our punching bag
monkeymojo3 Not really in our posse but we use him to practise our lasso skills
External links
Ad blocker interference detected!
Wikia is a free-to-use site that makes money from advertising. We have a modified experience for viewers using ad blockers

Wikia is not accessible if you've made further modifications. Remove the custom ad blocker rule(s) and the page will load as expected.