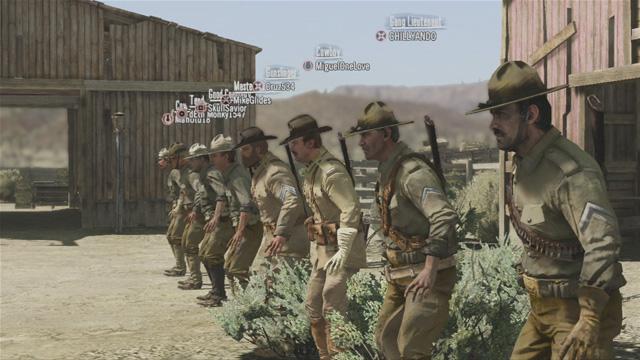 10th Regement is a Red Dead Redemption posse.
About the posse
We are the10th Regement of the British Army (i know there isnt a british army characters but that doesnt matter :D) who is at war with mexicans and gangs. Our home city is Blackwater and we patrol the smaller towns and farms like armadilio for an example. We have Recently Claimd Escalera as part of the British Empiere and will continue to raid and capture other setelments.
The officers will explain the basic commands like hold fire, form ranks. covering fire ect soon as we get more soldiers then you will b put into squads each squad will have at least two officers.
Things you need to know if you join the posse:
you must use an american army character
we recommend you have a mic
you must not make fun of anyone in the posse
listen to the commanders if not you will be shot carry on disobaying them then you will be kicked from the posse.
Joining the posse
add griffin6895 on playstation network and send a message asking you want to join.
Members
Commanders
Officers
Soldiers
External links
Ad blocker interference detected!
Wikia is a free-to-use site that makes money from advertising. We have a modified experience for viewers using ad blockers

Wikia is not accessible if you've made further modifications. Remove the custom ad blocker rule(s) and the page will load as expected.