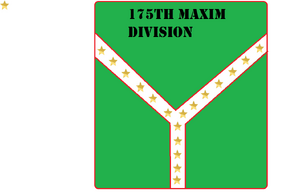 175th Maxim division is a Red Dead Redemption posse.
About the posse
The 175th Maxim Division are one of the most elite posses in Red Dead Redemtion talking most of mexico and some of west elizabeth. We recantly took over Cochinay and Escalera so we have many strongholds and towns. These include El presido and Las Hermanas.
Joining the posse
To join the 175th Maxim division you must own a Xbox 360 and message LikedLewis. You must be a minimum level of 8
Members
Leaders
LikedLewis
oPaRoDoX xBeAsT
Troops
newcastlerockin
Member 2
Member 3 etc.
External links
Ad blocker interference detected!
Wikia is a free-to-use site that makes money from advertising. We have a modified experience for viewers using ad blockers

Wikia is not accessible if you've made further modifications. Remove the custom ad blocker rule(s) and the page will load as expected.