Posse:1st American Mounted Cavalry
Talk

0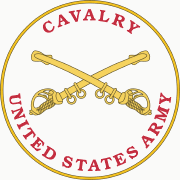 1st American Mounted Cavalry is a large Red Dead Redemption posse and the first American Army posse to be formed.
Background
The 1st American Mounted Cavalry is the first official American Army posse to grace Red Dead Redemption's multiplayer servers. We were formed exactly 3 days after the US release of the game, and we have risen through the ranks quickly, having over 2,700 members enlisted currently.
All of our members use American Army character skins, and our officers may use U.S. Marshals skins aswell.
Joining the Posse
To join the posse, leave a message on
Matt
's talk page on this Wiki, or send Xx_-Snyper-_xX a message over Playstation. We will test you in-game with a variety of tasks and you will be accepted and assigned to a division, or declined, based on your skill level.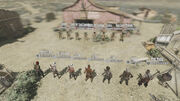 Members
All of our members are tested and proven in their skill, and work in a special one of our four divisions based on their respective assets and talents. Below are some of our noted members.
Leaders
Notable Members
DyslexiChef - Alternate Account of Blenderkitty
xrockstarx - 1st Division Leader
DarkWolf_68 - 1st Division Second in Command
0xide - 2nd Division Leader
drakedowney96 - 2nd Division Second in Command
xxrazorbackxx - 3rd Division Leader
sickswagg - 3rd Division Second in Command
usmc_sniper_1357 - 4th Division Leader
jaxle - 4th Division Second in Command
Trivia
The 1st American Mounted Cavalry was the first posse on Red Dead Redemption to exclusively use American Army skins.
Many Rockstar staff members have joined this posse.
To date, this posse has an estimated total win count of 23,471 matches.
External links