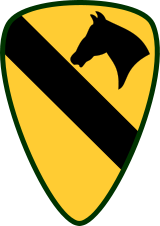 1st Cavalry Division is a Red Dead Redemption posse.
Basic info
(XBOX 360) The 1st Cavalry Division is one of the most famous divisions in the US cavalry. We do various skills and activities and we like to protect our territory (cochinay). We often hunt other posse's or lone fighters for fun. We will take any battle given to us and not go down easy. As the name suggests, we specialise in fighting while mounted on horseback but we can fight on foot if needed. Look below on how to join.
How to Join
Show skill while firing on horseback and on the ground. --- Must use the Winchester Repeater at most times. --- To join, either E-mail me at Blibblong@Hotmail.com or message PlumbingBean or FindingMyMonkey on XBL. --- Also having Skype will help as we don't use xbox chat. --- There are a few trials but they don't take long.
Requirements
Need any horse: Need Winchester Rifle: Officers are hand picked by commanders
Members
Commissioned Officers
Lt. Col. : Plumbingbean
Major  : FindingMyMonkey
1st Lt.  : Aureolus Sol
2nd Lt.  :
Non-Commissioned Ranks
Sergeant Major (1):
Master Sergeant (3):
Gunnary Sergeant (Uses mounted weapons) (4):
Staff Sergeant (5):
Sergeant (5):
Corporal (-) :
Private (-):
> All new recruits will start at private until trials where they will be promoted depending on skill. Pomotions are earned mainly in combat or every few weeks.
Ad blocker interference detected!
Wikia is a free-to-use site that makes money from advertising. We have a modified experience for viewers using ad blockers

Wikia is not accessible if you've made further modifications. Remove the custom ad blocker rule(s) and the page will load as expected.