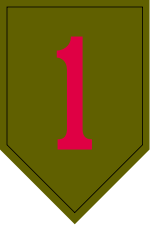 1st Infantry Division (Big Red One) is a Red Dead Redemption posse.
About the posse
We are the United States Army's 1st Infantry Division, we are also known as the Big Red One. Our bases are Cochinay in West Elizabeth, Fort Mercer in New Austin, and El Presidio in Mexico. We play gang matches, outlaws to the end, and posse wars in free roam.
Joining the posse
If you want to join the posse then contact JackM-- or UrbanSniper_666 saying you want to join. You will then receive training from rom-mohc to see if you qualify to join the clan. We are a PSN group. Note: Recruitment in currently OPEN.
Rules
1. Follow Orders (Failure To Do This Will Result In Being Booted From The Posse)
2. Don't Insult Or Attack Any Member In The Posse
3. Respect The Leaders
4. Never Attack Other Players (Unless They Attacked You First Or Ordered To)
5. Assaulting/Killing A Leader Will Result In Being Executed By Firing Squad
6. Do Not Make Fun Of Other People In Public Matches Unless They Did Something Stupid or If They Just Deserve It
7. You Have 3 Strikes Until You're Booted (The First Strike You Get A Warning, Second Strike You Get Demoted, The Third Strike You Will Be Executed By Firing Squad And Booted)
Ranking
Ranks Are:
POW (If You're Lucky)
Private
Private II
Private First Class
Private Second Class
Specialist
Corporal
Sergeant
Staff Sergeant
Sergeant First Class
Master Sergeant
1st Sergeant
Sergeant Major
Command Sergeant Major
Sergeant Major of The Army*
Warrant Officer
Chief Warrant Officer 2
Chief Warrant Officer 3
Chief Warrant Officer 4
Chief Warrant Officer 5
2nd Lieutenant
1st Lieutenant
Captain
Major
Lieutenant Colonel
Colonel
Brigadier General
Major General
Lieutenant General
General
General of The Army
Requirements
1. A headset is highly recommended (but not needed)
2. Stealth
3. Skilled with any type of weapon
4. Must be wearing US Army uniform
5. Outlaws to the End Co-Op pack
7. Good at riding horses
8. Be at least level 10 (Prestige Players Can Join At Any Level)
Members
Commanders
General of The Army JackM--
Lt Gen. UrbanSniper_666
Maj Gen. crastttlle
Infantry
Cpt. gityup- 1
Cpt. ndraica
Master Sgt. jaredsyn
Master Sgt. rkgamer27
Cpl. BlAck-ShAdoW-8
Cpl. fal1972mouth
Pvt. aspen-leblanc
Pvt. kickinyourbut707
Misc
External links