21st Calvalry Derserters
is a
Red Dead Redemption
posse.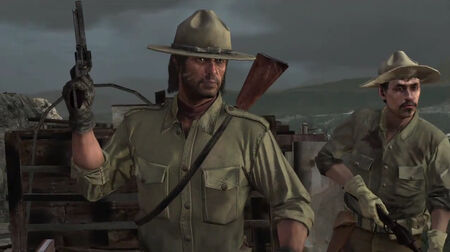 About the posse
We were once part of the 21st Cavalry Division, but when the apocalypse began, we abandoned our ranks. Now, we survive on our own. We fight to protect our cities from being overrun. When the apocalypse ends, we will kill public enemies and protect the innocent. We train and hide out at Cochinay. And, we know how to fight.
Joining the posse
Send a message to Yo M0mmma. Or maybe, you'll be recruited from a match. Note: If you don't have undead nightmare, you still CAN join. And by the way, I was a high level before (first prestige level 30), but my Xbox broke.
Members
Leaders
Other members
Member 1
Member 2
Member 3
External links
Ad blocker interference detected!
Wikia is a free-to-use site that makes money from advertising. We have a modified experience for viewers using ad blockers

Wikia is not accessible if you've made further modifications. Remove the custom ad blocker rule(s) and the page will load as expected.