4th Mounted Rifles is a Red Dead Redemption posse.
About the Company
The 4th Mounted Rifles are a United States Cavalry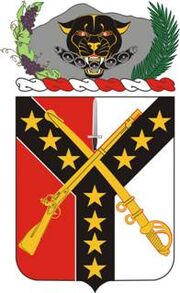 company based in New Austin. We are just a group of players that just want to play and have fun. In Nuevo Paraiso, we are usually stationed in El Presidio when conducting business in Mexio. We are an Xbox 360 only posse.
It is also recommended to download the program Steam to make contact easier http://store.steampowered.com/
Joining the 4th Mounted Rifles
To join us, you must be at a minimum level of 10 and send a message and friend request to Captain frank325
Also you MUST have a US Army character chosen from the Outfitter
Recruitment is currently CLOSED, all requests for joining made after June 16th will be immediately denied.
Soldiers
Commanding Officers
Captain frank325
Lieutenant DataBlink
Lieutenant DataHaze
Mounted RIfleman
Sergeant orange55crush
Sergeant Tyrodjen
Corporal risingsun98
Corporal Serj the Mad
Corporal CactusClimer
Corporal MajorDobby666
Private metshdw
Private Iron Davy
Private RuzzianRoulette
Private Hutton150
Private Viva La Cruelty
External links