The 501 Calvary is a Military Calvary will be leading by a Major General Brendonzgame. He will have some Plans to attack on the Mexican Army Later when he form his Posses from Online Player. But So if he have them he will lead the assault on El Presido A Mexican Army Fort Led by a Mexican General.
The Training will be at Cochinay Or Fort Mercer. If you want to Join this Calvary meet me at Black Water or Armadillo.
Here Some List of Picture of the Calvary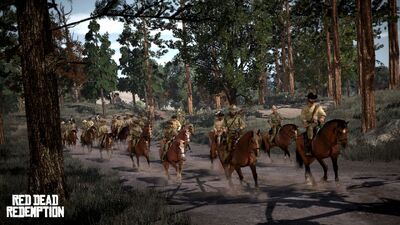 The 501 Calvary is Doing training in the forest.
So if you People have PS3 Come and sent me Message on the PSN. My Player Name is Brendonzgame.
I Want to wish you all a Luck and God Go with you
SInce, Major General Brendonzgame
Ad blocker interference detected!
Wikia is a free-to-use site that makes money from advertising. We have a modified experience for viewers using ad blockers

Wikia is not accessible if you've made further modifications. Remove the custom ad blocker rule(s) and the page will load as expected.