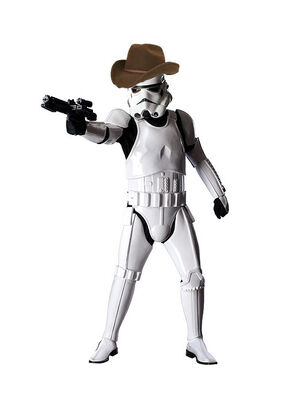 501st is a Red Dead Redemption posse.
About the Posse
We are a group of mercanaries who accept any job, any time, any place. We shoot first, mock later and most of all we're here to help you rid of those annoying skidmarks to gaming, we also help with missions.
Missions
If you are not part of the posse and need some help, message one of us (below) If you are in the posse and you've been given a job post what the client wants you to do and then post the mission status (Pending, In Process, or Completed) so i can promote you accordingley.
Activity check
This is the place to bump when the activity check occurs which, as of now is once every two months starting with august 2010.The check will last for approximatly 1 week and members that haven't bumped will be put on the Inactive member's list untill they message me a reason why they could'nt bump or bump on the next activity check.
Active Members
Total: 5
Connor "Colonel Connor" France
Yaroslav the Ruski
Liam "Buzzy" Lloyd
Gary "FatBoySlim" Wingate
Doctor_A44
Joining the posse
Send me an e-mail on conno09@hotmail.co.uk Or Yaroslav on: yr-96@mail.ru

PSN:
Me on conno96
Or Yaroslav on elbarto12345678
XBL:
Or Liam on madGAMES KING
Members
Connor France, Yaroslav the Ruski, Liam Lloyd, Gary Wingate, Doctor_A44
Leaders
Playstation Divison:
Connor "Colonal Connor" France
Yaroslav the Ruski
Xbox Division:
Liam "Buzzy" Lloyd
Other members
Doctor_A44
Gary "FatBoySlim" Wingate
Ranks
Connor France: General
Yaroslav the Ruski: Lieutenant General
Liam Lloyd: Lieutenant General
Gary Wingate: Private
Doctor_A44: Private
External links
Ad blocker interference detected!
Wikia is a free-to-use site that makes money from advertising. We have a modified experience for viewers using ad blockers

Wikia is not accessible if you've made further modifications. Remove the custom ad blocker rule(s) and the page will load as expected.