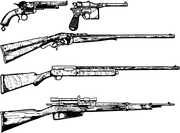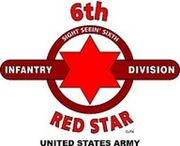 6th "Red Star" Foot Riflers is a Red Dead Redemption posse.
About the posse
We are a squad of US infantry who use standard issue Buffalo and Bolt Action Rifles. The Sergeants use Mauser pistols while the rest of the infantry used their High Power Pistols. For close quarters combat soldiers may use Semi-Auto Shotguns. There are also snipers with Carcano Rifles.
Joining the posse
To join the posse you need to contact me on Xbox Live at Nuno115. You also need to change your skins to one in the American Army (besides the legendary one and Gaptooth Mcgee because only sergeants use those).
Members
Nuno115, gto, catchable slinky, jellybeans, crown(need rest), JesusSquid, KJ(need rest), Ghost(need rest), uncappedmovie(need rest)
Leaders
Master Sergeant Nuno115, Sergeant uncappedmovie
Other members
Private gto, Private catchable slinky, Private jellybeans, Private crown(need rest), Private JesusSquid, Private KJ(need rest), Private Ghost(need rest)
External links
Ad blocker interference detected!
Wikia is a free-to-use site that makes money from advertising. We have a modified experience for viewers using ad blockers

Wikia is not accessible if you've made further modifications. Remove the custom ad blocker rule(s) and the page will load as expected.