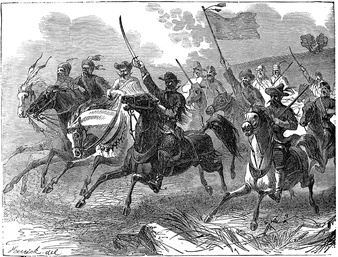 82nd U.S Cavalry Battalion is a Red Dead Redemption posse.
About the posse
Joining the posse
If you want to join the posse then contact a CO saying you want to join.
You will then receive training from the CO'S to see if you qualify to join the 82nd U.S Cavalry Battalion.
If you pass training then all you need to do is take the oath of allegiance on parade.
WE ARE A PSN POSSE.
Note: Recruitment is currently OPEN.
Members and Requirements
COMMISSIONED OFFICERS

GENERAL OF THE ARMY-SHEIFF-RANGO
COLONEL OF THE ARMY-Wongabourra
LIEUTENANT COLONEL-GaRy_Goes_HAM
BRIGADIER
MAJOR
CAPTAIN-INSAINhunterALEX
LIEUTENANT
SECOND LIEUTENANT
NON COMMISSIONED AND WARRANT OFFICERS

R.S.M
S.M
C/SGT
SGT
CPL-Thats-_-Classic, andrepestana7
L/CPL-JaKubTheGamer11,Franproevo
PRIVATE-M4A1CARBINE_24, BOOMfaceGONE
Requirements
1. A headset is highly recommended
2. Must be wearing U.S Army uniform
3. be at least level 30 (prestige players can join at any level)
4. can work as part of a team
5. skilled at riding horses
6. skilled with any type of weapon
7. skilled in all types of warfare
Specialist and Rules
Specialist
COMBAT LEADER:GaRy_Goes_HAM
SCOUT/NAVIGATOR(1): scouts ahead of battalion, uses sniper/high powered rifles mostly, leads battalion when travalling.
BREACHER(2): first people into a building/position. use shotguns and pistols when up close. 
HEAVY WEAPONS EXPERT(1/2):  uses high power rifles. must be well trained in using all mouted weapons(cannons,gatling guns, browning guns).
EXPOLSIVES EXPERT(1): utilises dynamite andfire bottles to clear positions.also uses other weapons when at range.
SNIPER(1): sniper that works with scout and provides covering fire from long-range.
IMPERIAL-GUARD(2/4): skilled in all specialist's and must protect the General of the army.
there are only a certain number of people to a specialist.
so please request a specialist when you join, so you can be tested and if you pass the test then you
will go on to get you're specialist training, and if you pass you're traing you will have your specialist.
but each specialist has there own oath you have to take when you pass.
Rules
1. Follow orders (Failure to do this will result in being booted from the posse or being executed by fireing squad)
2. Don't insult or attack any member in the posse
3. Respect the Commissioned Officers
4. Don't attack other players (unless orderd to or they attacked you first)
5. Assaulting/killing a CO will result in being executed by firing squad
6. Retreating without orders will be classed as treason and will result in execution be firing squad
7. You have 3 strikes until you're booted (strike 1 you get a warning, strike 2 you get demoted, strike 3 you will be executed by firing squad)
External links
Ad blocker interference detected!
Wikia is a free-to-use site that makes money from advertising. We have a modified experience for viewers using ad blockers

Wikia is not accessible if you've made further modifications. Remove the custom ad blocker rule(s) and the page will load as expected.