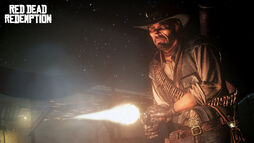 96 bullets is a Red Dead Redemption posse.
About the posse
this posse is a outlaw posse if you like to fight the law and kill for fun then join if you like killing the other gang and raid there hideouts join.
Joining the posse
just send a message to poolhound1 on psn(playstation network) you do not need a mic.
-No little kids.
-Must speak English.
to join you have to be using a misc mexicans person/misc crimanals
Members
poolhound1
Leaders
Other members
External links