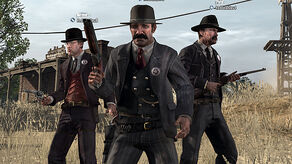 ASESINO MARSHALS is a Red Dead Redemption posse.
About the posse
BRINGING CIVILATION TO THE CORRUPT LAND ONE BULLET AT A TIME...
in the clan you MUST use the marshal or federales outfitter character class in multiplayer (we accept edgar ross and marshal johnson from the liars and cheats pack also and conor callahan and sean cobbler from lawmen) and must have the High Power Pistol unlocked (LV 35) . YOU MUST HAVE A XBOX 360 MIC
ACTIVITIES: we like to go around the map and take over the land in Land Grab.
Also enjoy doing Undead Overrun with members who have the Undead Nightmare dlc.
when the oppurtunity comes we will be taking on rockstar games at one of the upcoming events.
also enjoy Stronghold, liars dice, TOMAHAWK WARS , Legends and killers matches.
Joining the posse
send me a message on xbox 360 GT xTeH GaM3R G0dx
Members
xTeH GaM3R G0dx, TR1GGAHAPPYK1Dx, SoH Stonecold, tj pWn4g3 117, REDD34DP0TH34D, Papa Erch
Leaders
Leader 1 xTeH GaM3R G0dx
Leader 2 TR1GGAHAPPYK1Dx
Other members
Member 1 SoH Stonecold
Member 2 tj pWn4g3 117
Member 3 etc. REDD34DP0TH34D
External links