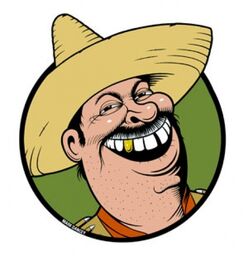 A Fat Beaner is a Red Dead Redemption posse.
About the posse
Our posse is for anyone,you don't have to be fat, just a dirty beaner at heart with a sense of humor. Now to were gonna be using the Mexican characters in multiplayer and we go around on our sexy Donkeys while eating burritoes
Joining the posse
Contact Kigo13 (xboxlive) send a message then I'll send you a code, memorize the code the burn the code send me the code and then burn a flare outside of your house three days later
Members
No members yet (thats were you come in)
Leaders
Leader 1 Kigo13
Leader 2 BeastshaneMr
Other members
Member 1
Member 2
Member 3
External links
Ad blocker interference detected!
Wikia is a free-to-use site that makes money from advertising. We have a modified experience for viewers using ad blockers

Wikia is not accessible if you've made further modifications. Remove the custom ad blocker rule(s) and the page will load as expected.