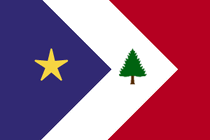 Acadian Rebels is a Red Dead Redemption posse.
About the posse
Tired with government's ignorance and by their lack of voice in the provincial assemblies, a group of Acadians, in the spirit of the Acadian rebel Joseph Broussard, aka "Beausoleil", departed their homes in hopes of claiming a part of the west and to forming a "New Acadia". This group of predominantly young men, were made up of former woodsmen, fishermen and farmers, and originated from the Atlantic region of the Dominion of Canada, particularly from the Digby County, Nova Scotia area. A group of 14 departed Church Point in May 1911, later joining with a group of 5 near Grand Digue.
Along their journey west, they met with cousins, Cajuns, near the banks of the mighty Mississippi, as a result the group's numbers grew. Finally, in November 1911, a group of approximately 25 men reached the town of Blackwater, where they obtained further supplies and weapons, and made temporary shelter on the hill side.
In the spring of 1912, and after much training, the group left the Blackwater area and made camp in Tall Tree. The group commenced on trapping and hunting, selling/trading fur and meat for supplies and ammunition. It was in December 1912 that the group killed local trapper John Tanner, of Tanner's Reach. The events of that day were a result a territorial conflict on hunting ground. The group spared Tanner's two daughters, Ellen and Dixie, along with his son, David. The main body of the group took up residence in Tanner's cabin until the following spring. Several died that winter of scurvy. Not much is known of the Acadian Rebels after this point as the remaining group of rebels dispersed, settling in the surrounding area. It is known that several rebels returned to Canada where they later enlisted and went to the front lines of the Great War in France.
Joining the posse
Sorry, Xbox Only! Acadian/Cajun Descendants; English spoken. Contact "Jhazon" on Xbox Live.
Confirmed Members
Beausoleil ("Le Jeune" Denis Broussard)
Jhazon (à Eusèbe "Bayo" Gaudet) - part Míkmaq native
The White (Daniel LeBlanc)
Comeau the Métis - part Míkmaq native
External links
Ad blocker interference detected!
Wikia is a free-to-use site that makes money from advertising. We have a modified experience for viewers using ad blockers

Wikia is not accessible if you've made further modifications. Remove the custom ad blocker rule(s) and the page will load as expected.