American Army Rangers 11th Cavalry Regiment (PS3) is a Red Dead Redemption posse.
About the posse
Allies: (Recruiting)
Enemys: Mexican Army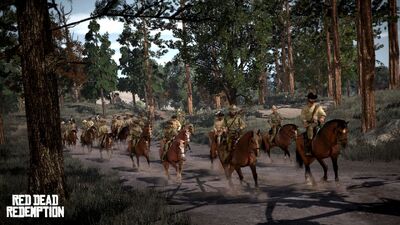 Weapons

| Double Action Revolver | 6/75 |
| --- | --- |
| Schofield Revolver | 6/75 |
| Dynamite | 2 |
| Throwing Knife | 20 |
| Fire Bottle | 2 |
| Carcano Rifle | 5/5 |
| Bolt Action Rifle | 5/25 |
| Henry Repeater | 12/18 |
| Pump-action Shotgun | 6/14 |
| Knife | N/A |
Joining the posse
1.You need PS3.
2.You need to tell me why you wan't to join.
3.You will need to do training.
4.If I say you can join then you need to add me.
Members
Leaders
Leader 1 Ckzippo
Leader 2 Hell-Demon_4357
Records
American Army Base's                       Mexican Army Base's

| Pacific Union R.R. Camp | |
| --- | --- |
| Cochinay | |
| Torquemada | |
| EL Matadero | |
| EL Presidio | |
| Thieves' Landing | |
| | |
| | |
Allied General's
General 1
General 2
General 3
History
After attaining victory in the Spanish-American War of 1898, the United States found itself with the new task of Territorial Administration. In large part, the job fell to the regular Army. Found to be undermanned for the mission, Congress increased the standing army by five infantry and five cavalry Regiments. Thus, on 2 February 1901, the 11th Cavalry Regiment was the first of five newly formed cavalry regiments. The 12th, 13th, 14th and the 15th Cavalry Regiments followed.
The Army acquired many excellent officers and NCO's for this expansion and the Regiment benefited by having from birth resourceful, combat-seasoned leaders within its ranks. For it was the volunteers from the 3d Cavalry Division were the bases of the NCO corps for the regiment. Also, several veterans from the former 11th Volunteer Cavalry who had just returned from the Philippines enlisted into the newly formed 11th US Cavalry. Several of these vets received Regular Army Commissions. The officer selected to raise the Regiment and serve, as its First Colonel was Francis Moore, a combat tested veteran of the Civil War, Indian Wars and who also gave distinguished service in the Spanish-American War, where upon he was awarded the Medal of Honor. He was tasked with raising the Regiment and serving as its first commanding officer. The 11th Cavalry was exceptionally fortunate in having the standard set by such an experienced and resourceful officer as Colonel Francis Moore; first Colonel of the Regiment.
On 11 March 1901, the first recruits of the new Regiment reported for training at Fort Myer, Virginia. The officer's and NCO cadre at Fort Meyer were prepared to begin the task of forming their Regiment. The first trooper to arrive was Chaplain, who said, "I want to greet each new trooper as they arrive". On 18 March 1901, the first 150 recruits arrived on Post.
First training report rendered by the Major of the 3d Squadron, of the 15th Cavalry, as it was being organized on Mindanao, Philippine Islands, in 1901. This sentiment was fully shared throughout the newly formed 11th, 12th, 13th, 14th and 15th Cavalry regiments.
"I have 400 men who have never seen a horse, I have 400 horses who have never seen a man, and I have 15 Officers who have never seen a man or a horse."