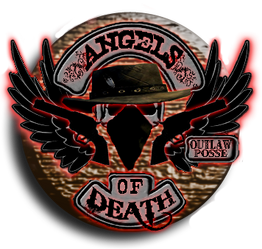 Angels of Death is a Red Dead Redemption posse.
About the posse
The Angels of Death are a posse/gang that have been going on for years. Recently only running from GTAF, they have now extended into the wild west of Reddead.net
Joining the posse
To join the posse please go to http://www.reddead.net/forums/thread-recruitment
Members
Founder
Leaders
TUBBSthezombie
Mae King Fuch
Diggdydog
ThatJiggyKid
Other members
LeRay0409
Booze T
Swooner
DestructoBoi420
Kinko Kabuki Koshi KaPOW
JBC00PER
GamesGuru
Toke
Zelos32
S0mfy
Flamezdudes
Sermios6
Ciprymuu
Jaky2008
Vanderbro
WhiplashCC
Flufeeh
Red Dead Rock'N'Rolla
ghost2021a
SlappyPwnsAss
Jesse James
cocoNa
Gunner
Reissg2
bloodhunter112
mattg101
Roy_Thuis
Allies
Ad blocker interference detected!
Wikia is a free-to-use site that makes money from advertising. We have a modified experience for viewers using ad blockers

Wikia is not accessible if you've made further modifications. Remove the custom ad blocker rule(s) and the page will load as expected.