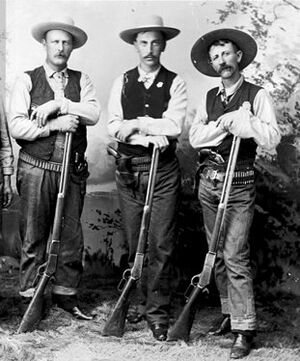 Armadillo's Finest is a Red Dead Redemption posse.
About the posse
Our posse is on xbox 360 and are the main Law Enforcement in the greater area of Armadillo. We work out of the town, protect its town people and crush all of the un justice in and around our town. We are a group of friends enjoying the great game of Red Dead Redemption, we do this buy killing criminals, taking out gang hideouts and serving justice in the west.
Joining the posse
To join our posse you must come from England.
Members
Leaders
FirstIn49
HalfSizedMonkey
Other members
SatansKettle
S3shun8
UselessCookie
External links
Ad blocker interference detected!
Wikia is a free-to-use site that makes money from advertising. We have a modified experience for viewers using ad blockers

Wikia is not accessible if you've made further modifications. Remove the custom ad blocker rule(s) and the page will load as expected.