Armydillos patrol team is a character in Red Dead Redemption.
Background
We used to just run about killing random players until we decided we will take the LAW into our own hands..
OUR POSTER:>>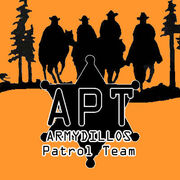 RECTRUITING NOW

Members/Leaders
LEADER:RECONZxXxDOG
MEMBER:
EVILxXxDOG
EPICxXxDOG
CrazyFrog228
(Looking for more members)
If u want to join the APT you don't have to change your GT to xXxDOG
Trivia
Quotes
"cieran they have horses"-EVILxXxDOG
"for every horse that nays every man that crys every gun that fires just remember you are playing red dead redemption"-unknown
Ad blocker interference detected!
Wikia is a free-to-use site that makes money from advertising. We have a modified experience for viewers using ad blockers

Wikia is not accessible if you've made further modifications. Remove the custom ad blocker rule(s) and the page will load as expected.