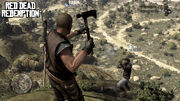 ArseKickersofArmadillo is a Red Dead Redemption posse.
About the posse: we kill anyone who annoys us and excecute a******* who dare to shoot first. we let people join our posse, so long as they do not act like total stuckup prats. it's helpful if you have one or all of the dlc's because we use tomahawks to our advantage and the explosive rifle alike.
Joining the posse: to join just send UndeadHippie a friend request and information about you and your profile. (NOTE: WE ONLY OPERATE ON PSN.) we dont go on every night but we do play public servers and have several safehouses/meetingpoints if we get seperated. just look when were on and well let you join.
Bosses: UndeadHippie J4CKO 1007sonic
other guys:

-ezioauditore9 -D-J Chris (-we have several members as well as the listed above, we have limited spots open.)
Ad blocker interference detected!
Wikia is a free-to-use site that makes money from advertising. We have a modified experience for viewers using ad blockers

Wikia is not accessible if you've made further modifications. Remove the custom ad blocker rule(s) and the page will load as expected.