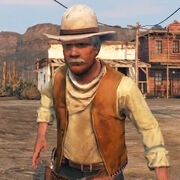 Avenging Geezers is a Red Dead Redemption posse.
About the posse
We stand for honest and fair play. We get together to have fun and to assist others in learning the game. Nobody in the posse uses cheats or modes, and we have zero tollernce for people that do. We do report cheaters & moders.
Joining the posse
You must be at least 40 years of age. Be willing to help your posse in their Red Dead challenges, achivements, ect.... When you find us in the game approach us with weapons holstered, and say hello. We will want to play some to see if we all can work together. It is that simple hope to see you in the game.
Rouge00001
Members
Rouge00001------Crocodile0700---SJT59---CowBoyKiller39---ANGELandD3MON---chineselover63---L G Murphy---
External links
Ad blocker interference detected!
Wikia is a free-to-use site that makes money from advertising. We have a modified experience for viewers using ad blockers

Wikia is not accessible if you've made further modifications. Remove the custom ad blocker rule(s) and the page will load as expected.