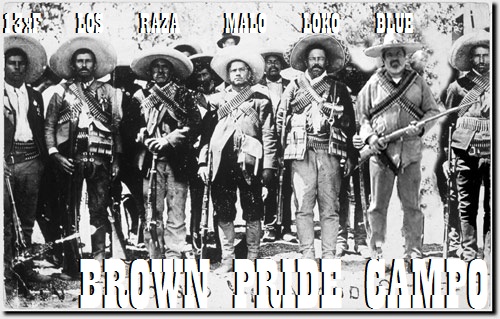 BROWN_PRIDE is a RED DEAD REDEMPTION POSSE.
(BROWN PRIDE EST 2011)
We may be a small posse we may even be your leaders- that dont mean we will not run over you and your posse like we have done with others. We may be hated, we might not be liked....the bottem line we dont give a dam. All there is and there will ever be is BROWN PRIDE!!
BROWN PRIDE- RESPECT FEW FEAR NONE...
BROWN_PRIDE
B -rown is the color of my skin.
R -espect mi familia.
O -ut to kill.
W -ill kill at close range
N -othing will stop us
ALLIES
DO YOU REALLY NEED TO KNOW?....
ENEMIES
THE LIST IS OPEN-
MEMBERS
BROWN_PRIDE_MALO
BROWN_PRIDE_RAZA
BROWN_PRIDE_BLUE
BROWN_PRIDE_LOS
BROWN_PRIDE_13xF
BROWN_PRIDE_DOS
BROWN_PRIDE_CRUZ
BROWN_PRIDE_SOL
BROWN_PRIDE_LOVE
BROWN_PRIDE_BRIT
BROWN_PRIDE_LADY
BROWN_PRIDE_MIGO
BROWN_PRIDE_THUG
BROWN_PRIDE_VAGO
BROWN_PRIDE_KUSH
BROWN_PRIDE_POSH
BROWN_PRIDE_PAIN
BROWN_PRIDE_CONO
Ad blocker interference detected!
Wikia is a free-to-use site that makes money from advertising. We have a modified experience for viewers using ad blockers

Wikia is not accessible if you've made further modifications. Remove the custom ad blocker rule(s) and the page will load as expected.