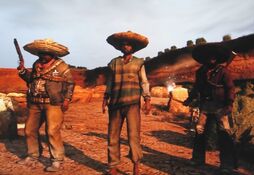 Bandidos de México is a Red Dead Redemption posse.
About the posse
We're a posse based in Torquemada,México. We terrorize the towns of chuparosa and Escalera. We are well known by the Méxican army. Our favourite activities are train robbing and shootouts with the goverment and U.S gangs.
Joining the posse
just contact me.
my psn account is So_Togo
Members
So_Togo, nudel3, SecondSide
Leaders
Other members
SecondSide
HAYTEMCSC_RED13
Member 3 etc.
External links