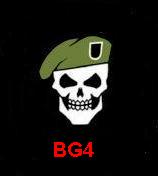 Battlegroup four is a Red Dead Redemption posse.
About the posse
Please visit site for details
Joining the posse
recruitment active
basic training
New Members must turn up for Basic Training 3 times to be a full member
Xbox 360 only
Members
Leaders
foxhound400: Militaires sans frontieres:xbox360     
           
Veteran hawkeye: xbox360

Other members
sniper chapman: Xbox360
acid frostbite: Xbox360
chemist602x1023:Xbox360

web page http://battlegroup4.webs.com
Ad blocker interference detected!
Wikia is a free-to-use site that makes money from advertising. We have a modified experience for viewers using ad blockers

Wikia is not accessible if you've made further modifications. Remove the custom ad blocker rule(s) and the page will load as expected.